Product description
DCC-50/100II series Containerized Mobile Weighing and Bagging Plant is specially designed for the bulk cargo bagging operation at the side of ship (quayside), warehouse and storage yard with international advanced level. Adopting advanced industrial control and full electronic weighing technology, the machine has a series of advantages, such as: high weighing accuracy, fast bagging speed, high automatic level, stable and reliable performance, convenient use and maintenance, good environment flexibility, good moving mobility, good anti-impaction, compact structure and small occupied area, etc. Therefore it is the ideal equipment of weighing and bagging for variety of solid granular bulk cargo with good fluidity, such as fertilizer and grain, etc.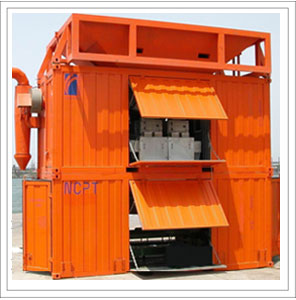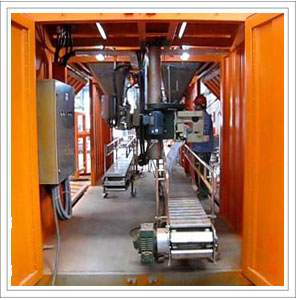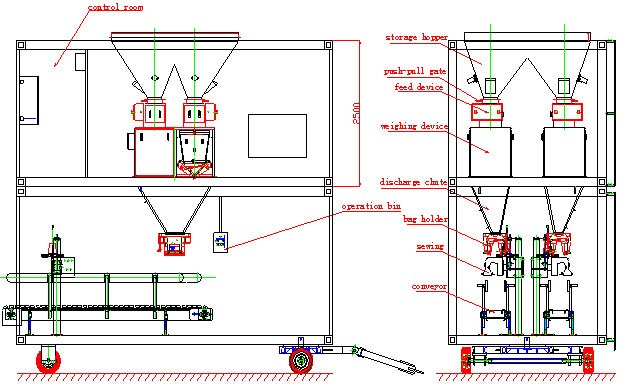 All the elements and component units of the Weighing and Bagging Machine are integrated in 2 Upper and Lower containers, which are international standard size 20' special designed containers for the convenience of shipment. The Upper and Lower container also have forklift holes, and can be moved by forklift.

(For optional type, there are towing wheels mounting underneath the lower container, and the bagging machine can be towed to working place by trailer.)

Each Weighing and Bagging Machine has 2 weighing-bagging lines which can run independently. The user can operate the 2 lines at the same time, or only run either 1 line according to practical requirement.

Each weighing-bagging line comprises Double Interlock DCS Scales, Discharge Chute, Bag-Holder, Weighing Control Cabinet, Bag Sewing Machine, Internal Chain-Slat Conveyor and etc. When the line running, both of the DCS Scales can be fed and weigh independently, but each time only one of them can discharge material. The two sets of DCS Scales will complete in-feeding, weighing and discharging alternately, therefore the weighing-bagging speed will be increased greatly.
Technical Specifications and Parameters
| | |
| --- | --- |
| - Materials : | Variety of solid granular bulk cargo with good fluidity, such as fertilizer, Grain and etc. |
| - Bulk Density : | 0.75 ~ 1.2 Ton/m3. |
| - Granular Size: | 1~15 mm. |
| - Unit Bag Weighing : | 15~100Kg adjustable (or as per user's request.) |
| - Max. Design Capacity: | 2000 Bags/hour, 100 tons/hour(2 bagging lines with 4 scales, as 50kg/bag net.) |
| - Weighing Accuracy : | ±0.1%(static); ±0.2%(dynamic); |
| - Air Pressure : | 0.6Mpa. |
| - Electrical Supply Power | 3Ph, 380V±15%, 50Hz±5% |
| -Control Voltage: | 1Ph, 220V±15%, 50Hz±5% |
| - Bag Type: | Jute, cotton, polypropylene-woven or paper open mouth bag. |
| - Ambient Temperature : | 0~+45℃ max. (or as per user's request.) |
| - Output of Conveyors : | Same or double direction(s) at the end(s) of lower container. |