Product description
This Unit comprises DCS-1000 Series FIBC bagging machine, main support frame, gravity feed hopper, power distribution box, discharge chute, bag-holder, pneumatic system and some optional devices such as dust extractor, air compressor and etc. Thereinto DCS Type of bagging machine is composed of feeder, weigher and weighing controller cabinet and etc.

The machine is used for FIBC Ton/Bag weighing & bagging various kinds of granular materials such as foodstuff, dried cassava, fertilizer, powder of PVC, granular feed, mineral granule, alumina and etc.

The machine can be fixed on the places such as dock, cargo yard, warehouse and factory etc. It is suitable for specialized production and flow process.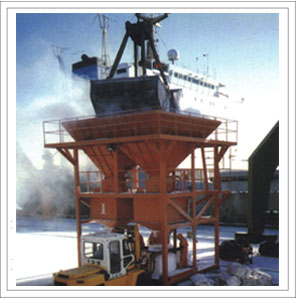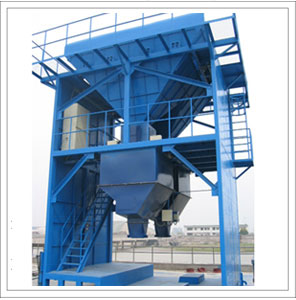 Technical Specification
Type
Production Line
Weighing Range
Accu- racy
Bagging Speed
Power Supply
Air Consumption
DCC-III
Single line with one scale
500~1500kg
0.2%
60 bags/hr
AC 380V 4kw
400L/min
DCC-IV
Double lines with two scales
500~1500kg
0.2%
120 bags/hr
AC 380V 8kw
600L/min
DCC-V
Double lines with four scales
500~1500kg
0.2%
240 bags/hr
AC 380V 12kw
800L/min
Working temp
-20℃~+40℃
Bag type
Open-mouth bag, aether bag (woven bag)
Feeding way
As choose as gravity, screw, belt, vibration, or combination ways
Sensor type
Suspension type with three-pivot
Bagging way
Auto rated weighing (net weighing), fitting bag by manpower, auto feeding, discharging by forklift or pushing out by pushcart
Air pressure
0.55~0.65 MPa
Installation Way
There are 2 main ways for installation.
1. The mobile frame structure:
DCS Weigher is mounted in the main support frame. The devices are integrated in frame. The frame structure is designed and installed on user's site according to the actual location.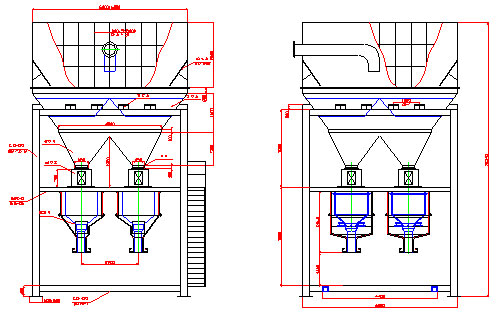 2. The fixed frame structure:
The bagging house is a floor structure. DCS bagging weigher is installed on the second floor of workshop. The slide chute is designed and installed on user's site according to the actual location.